Friday, July 29
Daily Nickel/Stainless Steel Briefing
Nickel closed Thursday's trading session at

$9.92/lb

($21,880/tonne). Indicators at 7:20 am CST today show nickel trading around $.10/lb higher. Stockpiles of nickel stored in LME licensed warehouses slipped on Thursday and started the final trading day of July just over the 57,800 tonne level. Eramet, in their corporate results yesterday, put the average cost of nickel at $27,575/tonne ($12.51/lb) for the first half of 2022. Analysts polled by Reuters, put nickel at $22,000/tonne for the fourth quarter - about where it is trading at the moment. We are running a little late this morning, so we will keep the comment section short and get this uploaded. Have a great Friday, a relaxing weekend, and we invite you to join us next month for more of the same. Stay safe out there!

Average price of LME traded cash nickel so far this month - $9.73/lb

Reports

Shanghai Metals Market

London Metals Market
Thursday's market review - Copper rebounds on hopes for slower U.S. rate hikes, China stimulus - Copper prices rose to a three-week high on Thursday as investors anticipated slower U.S. interest rate rises and improved demand from top consumer China. - more

POLL-Copper due to recover on Chinese stimulus, infrastructure - (excerpt) Analysts expect LME cash nickel prices to average $22,000 a tonne in the fourth quarter, only 1% firmer than current levels. - more


Glencore's ferrochrome production up on consistent smelter performance - Ferrochrome production, which is South Africa-based, rose 2% in the six months to June 30, reflecting consistent smelter performance, Glencore reported on Friday. - more


China's first generation electric cars are dying and no one knows how to deal with their batteries - The small number of approved battery recycling companies can't get their hands on retired batteries, which are mostly disappearing into small and often unsafe workshops. - more

Russia's Nornickel boosts output of all key metals - Russian metals producer Nornickel's first-half nickel and palladium output rose year on year thanks to returning production two mines hit by flooding in 2021, the company said on Thursday. - more

Other News
Reuters The Day Ahead - pdf here
South Korea and Indonesia to promote investments in supply chains - more
Xi warns Biden not to 'play with fire' over Taiwan - more

Economic Stats and Prices (Friday edition)
| | |
| --- | --- |
| | |
| Why Stainless Steel | Слава Україні! - more |
Thursday, July 28
Daily Nickel/Stainless Steel Briefing
Nickel closed Wednesday's trading session at

$9.87/lb

($21,750/tonne). Indicators at 6:00 am CST today show nickel trading around $.04/lb lower. Stockpiles of nickel stored in LME licensed warehouses fell on Wednesday and ended that session just below the 58,000 tonne level. Nickel ended on the winning side yesterday, but not by much, and is down this morning, but not by much. With the US Fed doing exactly what the market expected yesterday, the lack of surprise meant the market relaxed. Even the Euro / U.S. Dollar trading appears subdued. So far, the success story of 2022 has been Indonesia. It seems every week, and this week, every day, major named manufacturers are investing in Indonesia thanks to their export ban of nickel. What was a huge and dangerous gamble, has paid off big time for the country. Two trading days left in the month. Stay safe out there and have a great Thursday!

Average price of LME traded cash nickel so far this month - $9.73/lb

Reports

Shanghai Metals Market

London Metals Market
Wednesday's market review - Copper rises on short-covering and China demand hopes - Copper prices rose on Wednesday on hopes for improved demand from top consumer China and as some speculative investors reversed bets on price falls. - more
Stainless steel future prices in China expected to rebound in short future - The stock of pure nickel in China reached the lowest level in its history. The low inventory supports the price of nickel, and stainless steel futures rose accordingly. - more
China Stainless Steel Pricing Sentiment Appears Optimistic in the Remaining Q3 2022 - more

Analysis: Fund managers play the long game on inflation - Not convinced by central banks' pledge to stamp on inflation, many investors are on the hunt for assets that will protect their portfolios from years of decline in the value of money. - more


Steel demand in India to rise by 7-8% during July-September, 2022: JSW Steel - "Steel demand in the ongoing Q2 period is expected to be 7-8 per cent higher for the industry with a revival of re-stocking activity from July. - more

Race to Secure Battery Metals Heats Up as GM, Ford Ink Deals - Undeterred by the slowing global economy, buyers of key components in the powering of electric vehicles are stepping up efforts to lock in supplies, with two of the world's biggest automakers signing direct deals with producers of so-called battery metals. - more
Indonesia's Krakatau Steel, S.Korea's POSCO plan $3.5 bln investment - more
Other News
Reuters The Day Ahead - pdf here
How Do We Know When a Recession Has Begun? - more
US disapproval of China's grain stockpiling full of irony - more

Economic Stats and Prices (Friday edition)
| | |
| --- | --- |
| Why Stainless Steel | Слава Україні! - more |
Wednesday, July 27
Daily Nickel/Stainless Steel Briefing
Nickel closed Tuesday's trading session at

$9.75/lb

($21,505/tonne). Indicators at 6:00 am CST today show nickel trading around $.11/lb higher. Stockpiles of nickel stored in LME licensed warehouses fell by over 1000 tonnes and started today just over the 58,300 tonne level. Stockpiles have fallen more this month than they have since February, with the main difference being cancelled warrants were running in the 50% range in February, and were under 13% yesterday. On the surface one might think that means there isn't the demand now that was present in February, but the March debacle taught us all where most of those 'cancelled warrants' were. We suspect the 13% now is a much better reflection of 'actual' demand. The Philippines experienced a major earthquake overnight, but as of this morning, we are not hearing of any reports of nickel mines being closed. Lot of infrastructure damage, and collapsed buildings on the island of Luzon. Nickel fell yesterday, but is higher this morning. All eyes are on the Fed today as they announce another increase in interest rates in an attempt to get inflation under control. Lower gas prices may give them cover to increase it less than the market expects. Stay safe out there and have a great hump day!

Average price of LME traded cash nickel so far this month - $9.73/lb

Reports

Shanghai Metals Market

London Metals Market
Tuesday's market review - Copper trims gains after two-week high on China infrastructure hopes - Copper prices climbed to their strongest in two weeks on Tuesday as optimism about new infrastructure projects in top metals consumer China and concern about mine supply spurred speculators to buy back more short positions. - more
China's crude steel output drops in H1 y-o-y - In the first half of this year, the crude steel output of China's enterprise above designated size was about 16.9 million tons, decreasing by 9% year on year. - more

GM signs agreements with suppliers, on course to reach 1 million EV capacity by 2025 - General Motors Co (GM.N) said on Tuesday it had signed multi-year agreements with LG Chem Ltd and Livent Corp to secure key raw materials used in manufacturing batteries for electric vehicles. - more


India's Jindal Stainless reports 8% rise in net profit in Q1 of FY 2022-23 - India's Jindal Stainless Limited (JSL) reported net profit of INR 3.29 billion ($41.31 million) in first quarter (April-June) of fiscal 2022-23, up 8 percent over corresponding period of previous fiscal year, a company statement said on Tuesday, July 26. - more

Merafe to post higher interim earnings - JSE-listed chrome miner Merafe Resources expects to report basic earnings per share (EPS) of between 34.7c and 39.3c for the six months ended June 30, which would be a 51% to 71% improvement on the basic EPS of 23c reported for the six months ended June 30, 2021. - more
Toyota plans $1.8 bln Indonesia investment to build electric vehicles - Japanese carmaker Toyota Motor Corp (7203.T) plans to invest 27.1 trillion rupiah ($1.80 billion) in Indonesia in the next five years to produce electric vehicles (EVs), Indonesia's economics ministry said on Wednesday. - more

Other News
Reuters The Day Ahead - pdf here
Building codes - Setting high standards for structural stainless steel - more

Economic Stats and Prices (Friday edition)
| | |
| --- | --- |
| Why Stainless Steel | Слава Україні! - more |
Tuesday, July 26
Daily Nickel/Stainless Steel Briefing
Nickel closed Monday's trading session at

$10.04/lb

($22,135/tonne). Indicators at 6:00 am CST today show nickel trading around $.11/lb higher. Stockpiles of nickel stored in LME licensed warehouses fell on Monday and ended that session just under the 59,400 tonne level. Nickel is trading higher this morning, even though the Euro is trading lower. A large group of environmental organizations have banded together and asked Elon Musk not to invest in Indonesia. We suspect this will go no where as Musk, more so than many others, appears to consider the environmental impact before he builds. It is hard to do anything without impacting the environment some how - the question becomes - does the good outweigh the bad, and is the damage permanent? There are those that argue that EV is bad on the environment because of the damage done during the mining and manufacturing process. Our question would be - what are their practical alternatives? Renewable energy was in its infancy when President Reagan pitched the former White House inhabitants solar panels into the trash. Now forty years later, you see them everywhere. Yes mining and manufacturing have an environmental impact. But they can be lessened and hopefully, more will make those strides as time pasts. As for Musk. He has already caused quite an environmental stir in the nickel mining industry, so give the man his due. Stay safe out there and have a great Tuesday!

Average price of LME traded cash nickel so far this month - $9.71/lb

Reports

Shanghai Metals Market

London Metals Market
Monday's market review - Weaker dollar lifts copper, but demand outlook still shaky - Copper prices rose on Monday, helped by a weakening dollar that made metals cheaper for buyers with other currencies, but prices remained near 20-month lows as slowing economic growth clouded the demand outlook. - more

NGOs ask Musk to not invest in Indonesia's nickel industry over environmental worries - Dozens of non-governmental organizations (NGOs) have sent an open letter to Elon Musk, urging the Tesla Inc's (TSLA.O) chief to not invest in Indonesia's nickel industry on environmental concerns. - more

Copper Correction Coming? - After closing lower for six consecutive weeks, and giving up $1.24 along the way, copper got a reprieve last week, with a reminder that a correction may be coming. It's not limited to copper though, as all metals are ready for a bounce. - more
Courtesy AISI - In the week ending on July 23, 2022, domestic raw steel production was 1,754,000 net tons while the capability utilization rate was 79.6 percent. Production was 1,862,000 net tons in the week ending July 23, 2021 while the capability utilization then was 84.4 percent. - more

Other News
Reuters The Day Ahead - pdf here
Industrial Origami for sustainable stainless e-motorcycles - more
Ukraine war, energy crisis and Italy's political turmoil call euro's survival into question - more

Economic Stats and Prices (Friday edition)
| | |
| --- | --- |
| | |
| Why Stainless Steel | Слава Україні! - more |
Monday, July 25
Daily Nickel/Stainless Steel Briefing
Nickel closed Friday's trading session at

$10.07/lb

($22,200/tonne). Indicators at 6:00 am CST today show nickel trading around $.03/lb lower. Stockpiles of nickel stored in LME licensed warehouses fell on Friday and start the final week of July just under the 60,200 tonne level. The World Steel Association reported crude steel production was down nearly 6% in June compared to June 2021. The Russia/Ukraine region was hit the hardest - down over 34%. No region was in the positive. News is on the light side this morning, with nickel coming off a week of solid gains. It's down this morning, but we don't really see any reason why. You have five business days left to hit your July goals, so it's time to "get sum". Stay safe out there and have a great week!

Average price of LME traded cash nickel so far this month - $9.68/lb

Reports

Shanghai Metals Market

London Metals Market
Friday's market review - Copper set for first weekly gain in 7 weeks as risk appetite returns - Copper prices were on track for their first weekly rise in seven weeks on Friday as investors returned to riskier assets following a brutal sell-off. - more

ED&F Man gives up LME ring status amid takeover talks with Marex - The London Metal Exchange (LME) has lost ED&F Man Capital Markets as a ring dealing member after most of its floor team resigned because they expect takeover talks with broker Marex to be successful, a source close to the situation said on Friday. - more


SunSirs: Stainless Steel Fluctuated in a Narrow Range This Week (July 18-22) - According to the price monitoring of SunSirs, stainless steel was mainly adjusted slightly this week. As of July 22, the daily average price of spot 304/2B stainless steel flat plate 1.0*1219*2438 (tolerance 0.91) was 15,811.25 RMB/ton, down 0.08% from 15,823.75 RMB/ton at the beginning of the week and down 9.12% year-on-year. - more

Ferrochrome Prices Extended Decline amid Growing Pessimism - more
LME won't ban Nornickel's metal as Russian firm isn't under UK sanctions -sources - The London Metal Exchange has told some of its committee members it will not ban Nornickel's metal from its system as the company is not under UK sanctions even though Chief Executive Vladimir Potanin is, three sources familiar with the matter said. - more


June 2022 crude steel production - World crude steel production for the 64 countries reporting to the World Steel Association (worldsteel) was 158.1 million tonnes (Mt) in June 2022, a 5.9% decrease compared to June 2021. - more

Other News
Economic Stats and Prices (Friday edition)
| | |
| --- | --- |
| | |
| Why Stainless Steel | Слава Україні! - more |
Friday, July 22
Daily Nickel/Stainless Steel Briefing
Nickel closed Thursday's trading session at

$9.74/lb

($21,470/tonne). Indicators at 6:15 am CST today show nickel trading around $.13/lb higher. Stockpiles of nickel stored in LME licensed warehouses fell on Thursday and started today's session just under the 60,800 tonne level. We posted links to two articles below on forecasts for the supply side. "Knotty nickel...." talks about risks keeping the price pressure to the positive side, while "New Indonesia nickel supply...." feels what is going on in Indonesia will keep the price pressure to the negative side. After Volkswagen announced it was building its own nickel processing plant in Indonesia on Wednesday, Ford announced it had signed an agreement with Vale Indonesia to buy nickel. One thing is becoming very clear. Indonesia is quickly capturing the lion's share of the nickel destined for the EV industry. It's Friday and a scorcher outside for much of the Northern Hemisphere. Stay safe out there and have a relaxing and enjoyable weekend!

Average price of LME traded cash nickel so far this month - $9.67/lb

Reports

Shanghai Metals Market

London Metals Market
Thursday's market review - Copper retreats on stubborn recession fears as ECB raises rates - Copper slipped on Thursday as the European Central Bank raised interest rates by more than expected, reminding investors of recession risk from aggressive moves to curb inflation. - more
Knotty nickel supply chain highly exposed to fresh shocks - The nickel market is hostage to two mercurial players: Russia's Vladimir Potanin and China's Xiang Guangda. - more

New Indonesian nickel supply douses expectations for fresh price rally - Substantial new nickel supplies from top producer Indonesia in years ahead will ensure prices don't return to levels that sparked chaotic trading in March, despite robust demand growth from stainless steel and electric vehicle battery makers. - more


Vale Indonesia, China's Huayou sign agreement with Ford for nickel plant - Nickel miner Vale Indonesia, China's Zhejiang Huayou Cobalt and U.S. car maker Ford Motor signed a non-binding memorandum of cooperation to build a plant in Indonesia to extract nickel chemicals, Vale said in a statement on Thursday. - more

Ford Makes Key Moves to Lock Down Raw Materials, Suppliers for 2 Million EVs - more
Ford Targets 600,000 EVs by Late 2023, Announces Major Battery Plans - more

China's top steel mill adds its voice to industry's alarm - The world's top steelmaker has added its voice to the growing sense of alarm among China's mills over crisis conditions in the industry due to poor demand and plunging profits. - more

Other News
Economic Stats and Prices (Friday edition)
| | |
| --- | --- |
| | |
| Why Stainless Steel | Слава Україні! - more |
Thursday, July 21
Daily Nickel/Stainless Steel Briefing
Nickel closed Wednesday's trading session at

$9.61/lb

($21,180/tonne). Indicators at 6:00 am CST today show nickel trading around $.12/lb lower. Stockpiles of nickel stored in LME licensed warehouses fell on Wednesday and started today's session just under the 61,000 tonne level. On Monday, the International Nickel Study Group reported the world had witnessed a surplus of 16,100 tonnes thru the first five months of 2022. On Wednesday the World Bureau of Metal Statistics reported the world registered a deficit of 54,900 tonnes during that same period. Well, isn't that nice. Nickel is trading lower this morning, possibly due to the Euro taking a dip on the news of upheaval in the Italian government. Union workers at the Raglan Mine rejected the company's latest offer and Volkswagen is getting into the nickel processing business. Stay safe out there and enjoy your Thursday!

Average price of LME traded cash nickel so far this month - $9.68/lb

Reports

Shanghai Metals Market

London Metals Market
Wednesday's market review - Copper rises as upbeat sentiment lifts base metals - Prices of copper and most other base metals continued to recover from multi-month lows on Wednesday as strong U.S. corporate earnings and an easing of gas supply fears in Europe boosted risk appetite and global stock markets. - more
January to May 2022 Metals Balances - (excerpt) The nickel market was in deficit during January to May 2022 with apparent demand exceeding production by 54.9 kt. - more

Steelworkers reject Raglan Mine's contract offer - A majority of Raglan Mine's unionized employees have rejected the company's July 10 offer for a new collective agreement. - more


Volkswagen to build nickel processing plant in Indonesia this year - German carmaker Volkswagen (VW) will build a production and processing plant for nickel ore in Indonesia for the first time, Indonesian Investment Minister Bahlil Lahadalia told a press conference on Wednesday. - more

PolyMet and Teck form JV to develop Minnesota mining projects - PolyMet Mining Corp and Teck Resources Ltd said on Wednesday they will form a joint venture to develop their Minnesota copper and nickel mining projects. - more
Taiwan is preparing to repel the invasion of Russian steel in Asia - China Steel Corp. stated that it is closely following the offers of hot-rolled products from Russia and is ready to take steps "against unfair behavior in trade" if its Chinese customers switch to steel supplies from Russia. - more

Other News
Economic Stats and Prices (Friday edition)
| | |
| --- | --- |
| Why Stainless Steel | Слава Україні! - more |
Wednesday, July 20

Daily Nickel/Stainless Steel Briefing
Nickel closed Tuesday's trading session at

$9.38/lb

($20,680/tonne). Indicators at 6:00 am CST today show nickel trading around $.30/lb higher. Stockpiles of nickel stored in LME monitored warehouses fell on Tuesday and started today's session just over the 61,400 tonne level. Nickel continues its bullish bounce, helped by a stronger Euro. Expect the Fed to raise rates later this month, which should give the Dollar a boost. If that happens, we may see this nickel rally stall. Vale Indonesia reports lower nickel production, due to damage to a furnace. Steel prices around the world are in decline, but at least one commentator thinks that may end soon. Stay safe out there and have a great hump day!

Average price of LME traded cash nickel so far this month - $9.68/lb

Reports

Shanghai Metals Market

London Metals Market
Tuesday's market review - Demand fears return to haunt copper prices - Copper prices fell on Tuesday as worries about demand in top consumer China and elsewhere due to a growth slowdown were reinforced by rising inventories, while a lower dollar provided some support. - more

Frequent COVID Outbreak Weighed on Nickel Fundamentals - On the supply side, although the current terminal demand has improved, the stubbornly high premiums have led to less supply of Jinchuan nickel in the market. - more

Losses from steel production in China exceeded $100 per ton - S&P - more

Steel prices in the EU continue to fall as the summer holidays begin - European steel prices continued to decline this month. However, the overall rate of decline has slowed, which may indicate that the bottom will soon be reached. - more


The end of the steel price decline might be near - Let's get the bad news out of the way. - I usually start with steel prices and lead times. But I'd like to start with demand this time, because, Houston, we have a problem. - more


US makes affirmative determinations on AD & CVD orders on corrosion-resistant steel products from 5 countries - According to the US International Trade Commission (USITC)'s determination of five-year reviews on corrosion-resistant steel products from China, India, Italy, South Korea, and Taiwan, .... - more

Vale Indonesia Q2 nickel matte output falls 16.5% y/y -statement - Nickel miner Vale Indonesia INCO.JK reported 12,567 tonnes of nickel matte output for the April-June period, down 16.5% from the same period last year which was at 15,048 tonnes, the company said in a statement on Tuesday. - more
Other News
| | |
| --- | --- |
| Why Stainless Steel | Слава Україні! - more |
Tuesday, July 19
Daily Nickel/Stainless Steel Briefing
Nickel closed Monday's trading session at

$9.37/lb

($20,650/tonne). Indicators at 6:00 am CST today show nickel trading around $.33/lb higher. Stockpiles of nickel stored in LME licensed warehouses fell on Monday and ended that session just below the 62,400 tonne level. Nickel continues to rise, helped by a surging Euro. The Euro has a long way to go to get back where it was earlier this year, but that could also apply to nickel. BHP reported today "Nickel West production decreased by 14% to 77,000 tons due to the significant impacts of Covid-19 related labor absenteeism and workforce shortages, and unplanned downtime at the oxygen plant leading to a 15-day smelter outage in the June 2022 quarter." For those tired of hearing about the "flu", the recent surge in cases is having a direct, or indirect, economic impact on business. INSG reports a surplus of nickel production in May. Stay safe out there and have a great Tuesday!

Average price of LME traded cash nickel so far this month - $9.68/lb

Reports

Shanghai Metals Market

London Metals Market
Monday's market review - Copper bounces on short-covering as China supports property sector - Copper and other industrial metals prices bounced on Monday as bearish investors bought back positions following news about government support for the economy in top metals consumer China, with further support coming from a weaker dollar. - more
China's "nickel king" Tsingshan Group suspected of being squeezed by Glencore and countermeasures - more
Global nickel market surplus rises to 20,700 tonnes in May - INSG - The global nickel market increased its surplus to 20,700 tonnes in May from a surplus of 3,200 tonnes a month earlier, data from the International Nickel Study Group (INSG) showed on Monday. - more


Courtesy AISI - In the week ending on July 16, 2022, domestic raw steel production was 1,738,000 net tons while the capability utilization rate was 78.9 percent. Production was 1,862,000 net tons in the week ending July 16, 2021 while the capability utilization then was 84.4 percent. - more


Challenging outlook for global supply chains as costs rise while orders fall - Cocktail of challenges triggers a successive quarterly drop in overall trade activity while invoice traffic drops by 7 points as softening orders start to bite. - more


RCEP and the Rise of the Nickel-Based Industry - Dr. Harinowo served the Central Bank of Indonesia for twenty-five years, including as Director and Head of the Money Market and Monetary Management Department, where he led the implementation and management of the bank's monetary policy. - more

Nickel-tycoon Vladimir Potanin has big plan for Arctic hub Dudinka - A significant expansion of capacities is underway in the far northern port town of Dudinka as shipping on the northern end of the Yenisey is experiencing rapid growth. - more
Steel production unprofitable in Russia: report - more

Other News
Economic Stats and Prices
| | |
| --- | --- |
| | |
| Why Stainless Steel | Слава Україні! - more |
Monday, July 18
Daily Nickel/Stainless Steel Briefing
Nickel closed Friday's trading session at

$8.82/lb

($19,440/tonne). Indicators at 6:00 am CST today show nickel trading around $.37/lb higher and nearly back in the plus side for the calendar year. Stockpiles of nickel stored in LME licensed warehouses fell on Friday and start the second half of July just over the 62,500 tonne level. Cancelled warrants jumped from the 13 to 16% range on Friday as well, the highest its recorded since the trading freeze of March. Nickel was down sharply on Friday, before ending on the plus side for the day; a trend it appears to be comfortable with this morning. The Euro is off Thursday lows, which is helping add additional positive momentum. China reported Friday that industrial production in that country for the first half of 2022 was up 3.4%, while steel output was down 6.5%. It's a new week, and depending on where in the States you live, this could be a dangerous week with heat - much like Europe and England. So stay cool, stay safe, and have a great week!

Average price of LME traded cash nickel so far this month - $9.73/lb

Reports

Shanghai Metals Market

London Metals Market
Friday's market review - Copper rebounds from probe below $7,000 after U.S. data - Copper prices rebounded on Friday after touching 20-month lows after U.S. data eased worries about high inflation and pushed the dollar lower. - more

LME delays by seven weeks requirement for OTC reporting - The London Metal Exchange will delay by seven weeks a requirement for members to report all over-the counter (OTC) positions, a move initiated after off-exchange trading was partly blamed for a wild spike in nickel prices in March. - more

Explainer: Price surge prompts regulators to peer into commodity hinterland - more
China's crude steel output decreases by 6.5 percent in H1 as demand slows - In the January-June period of the current year, China's outputs of pig iron, crude steel and finished steel amounted to 438.93 million mt, 526.88 million mt and 667.14 million mt, decreasing by 4.7 percent, 6.5 percent and 4.6 percent, respectively, year on year, as announced by China's National Bureau of Statistics (NBS). - more

China's industrial output up 3.4% in first half - more
SunSirs: Stainless Steel Fell Weakly This Week (July 11-15) - more
SS Contract Fell to a New Low under Pressure - more

Klöckner acquires stainless operations - Klöckner & Co has acquired the companies Hernandez Stainless GmbH and RSC Rostfrei Coilcenter GmbH, Kallanish learns from the German distribution group. - more

Supply Chains Unlikely to Stabilize Until 2024, Survey Finds - More than half of supply chain executives don't expect a "return to normal" until the first half of 2024 or beyond, according to a new survey by Carl Marks Advisors, in partnership with SupplyChainBrain. - more

Other News
Economic Stats and Prices
| | |
| --- | --- |
| | |
| Why Stainless Steel | Слава Україні! - more |
Friday, July 15
Daily Nickel/Stainless Steel Briefing
Nickel closed Thursday's trading session at

$8.75/lb

($19,300/tonne). Indicators at 7:00 am CST today show nickel trading around $.20/lb lower. Stockpiles of nickel stored in LME licensed warehouses fell on Thursday and started today just under the 63,100 tonne level. Nickel is no longer in danger of trading at 2022 lows, it is well below that level now. Last nights close below and a continuing trend lower has put traders in an area the haven't seen since last December. If you have some stainless scrap, you might want to consider getting rid of it sooner, rather than later. The index we follow has nose dived this week. The International Nickel Study Group is convinced we will see a nickel surplus this year, which in month 7 of 12, we have yet to experience yet. Story below. In other news,the seven day average of new covid cases in the U.S. is nearing the 200,000 a day level. Updated statistics, show the seven day average on fatalities, has risen from around 300 a week ago, to over 400 a few days ago. Actual U.S. deaths recorded on the 13th, was 880 souls. The newest variants have apparently mutated to get around much of the immunity that Americans had built up from prior cases of covid and/or vaccines. Highly contagious, Shanghai reported its first case of the BA.5 variant earlier this week, and traders are bracing for potential expanded closures and quarantines. Speaking of vaccine, the U.S. has given emergency approval for another two shot vaccine - this one from Novavax - severe allergic reactions a possible side effect. Two shots again? What happened to those spray up your nose vaccines they were supposed to be working on? California's AB 5 law, which is causing such an uproar in the California trucking industry, does little more, in our opinion, than confirm the legal description of an independent contractor and brings it more in line with what the Federal law says. An employer can not tell someone what to do, when to do it, where to do it, and sometimes, how to do it - and oh by the way, you are an independent contractor and run your own business and are not one of our employees. Leasing trucks to drivers on lease to own programs, mandating the prior, and then calling them independent contractors, has become a major source of revenue for the trucking industry, so this change is causing all sorts of consternation within the industry. Stay safe out there and have a great weekend!

Average price of LME traded cash nickel so far this month - $9.83/lb

Reports

Shanghai Metals Market

London Metals Market
Thursday's market review - Industrial metals tumble as dollar rises and growth slows - Industrial metals prices fell sharply on Thursday as markets braced for rapid interest rate rises that will slow economic growth and reduce demand for metals. - more

Hedge fund Elliott, Jane Street invoke Human Rights in LME nickel lawsuit - U.S. hedge fund Elliott Associates and Jane Street Global Trading are invoking the Human Rights Act as they seek to sue the London Metal Exchange (LME) for a combined $472 million over its decision to cancel nickel trades in March. - more
LME used 'expert judgment' to wipe $4bn trades, defense to Elliott and Jane Street suit claims - more
Factbox-Extracts from court documents in LME nickel legal case - more

INSG: Global nickel supply to rise by 18.2% in 2022, driven by increased capacity in Indonesia - According to a report from the International Nickel Study Group (INSG), global nickel consumption rose by 16.2% last year, boosted by the stainless steel industry and the fast-growing battery industry. - more

Other News
Economic Stats and Prices
| | |
| --- | --- |
| | |
| Why Stainless Steel | Слава Україні! - more |
Thursday, July 14
Daily Nickel/Stainless Steel Briefing
Nickel closed Wednesday's trading session at

$9.59/lb

($21,145/tonne). Indicators at 6:00 am CST today show nickel trading around $.31/lb lower. Stockpiles of nickel stored in LME licensed warehouses fell on Wednesday and started today's session just under the 63,500 tonne level. Nickel fell overnight in China, and LME traders apparently are taking a cue, as nickel is sharply lower this morning. Yesterday's close was its lowest since early January and nickel is suddenly in real danger of turning negative for the year. Stainless steel bar products are on the rise, China steel output still lower, and the U.S. is becoming more interested in securing sources of critical minerals. Stay safe out there and have a great Thursday!!

Average price of LME traded cash nickel so far this month - $9.90/lb

Reports

Shanghai Metals Market

London Metals Market
Wednesday's market review - Copper slides to 20-month low on economic slowdown fears - Copper prices on Wednesday fell to their lowest since November 2020 as data showing the highest U.S. inflation in over 40 years bolstered the case for more interest rate rises that would restrain economic growth and metals demand. - more
Universal Stainless hikes base price of bar products by 9-12% - Universal Stainless & Alloy Products, Inc., a stainless steel manufacturer in the US, announced to hike the base price of its bar products by 9% to 12%, becoming effective immediately. - more
Column: Collapsing metal inventories clash with plunging prices - London Metal Exchange (LME) stocks are rapidly dwindling. - more

U.S. Will Back Miners to Stop China's Weaponization of Battery Metals - Developers of battery metals projects can win support from the U.S. government as it seeks to counter the dominance of China in clean-technology supply chains, Energy Secretary Jennifer Granholm said. - more


CISA mills' daily steel output down 1.98 percent in early July - The China Iron and Steel Association (CISA) has announced that in early July (July 1-10) this year the average aggregate daily crude steel output of large and medium-sized steel enterprises in China - all CISA members - totaled 2.0748 million mt, down 1.98 percent compared to late June (June 21-30) this year. - more

Other News
Economic Stats and Prices
| | |
| --- | --- |
| | |
| Why Stainless Steel | Слава Україні! - more |
Wednesday, July 13
Daily Nickel/Stainless Steel Briefing
Nickel closed Tuesday's trading session at

$9.67/lb

($21,325/tonne). Indicators at 6:00 am CST today show nickel trading around $.03/lb higher. Stockpiles of nickel stored in LME license warehouses fell on Tuesday and started today just over the 63,600 tonne level. Another ho-hum day with LME nickel continuing its slow slide, and up slightly this morning. The US continues to average over 100,000 new COVID cases a day, but it appears the fatality rate continues to edge lower. Europe is getting hit much harder as well. This could add pressure to worldwide economies already bracing for a potential slowdown. Inflation could be slowing as well. That said - life has served you a big bag of sour lemons today. What you do with them, is up to you. Might we suggest - lemonade? Stay safe out there and have a great hump day!

Average price of LME traded cash nickel so far this month - $9.91/lb

Reports

Shanghai Metals Market

London Metals Market
Tuesday's market review - China ramp-up sends aluminum prices to 14-month lows - Aluminum prices tumbled to their lowest in more than a year on Tuesday on expected increases to supply from top producer China, where smelters have been ramping up output. - more

How a Chinese metal tycoon imploded the nickel market — and walked away with billions - Most investors don't lose an $11 billion bet and walk away unscathed, but a Chinese metal tycoon known as "Big Shot" has done exactly that. - more


Are the nickel and cobalt chemical markets shifting away from traditional pricing mechanisms? - Nickel and cobalt chemical prices have traditionally been determined by their respective finished metal prices, but lately they have shifted towards each being priced independently. - more

Commodity swings could pose 'outsize' hit to economy, says G20 watchdog - more
Turkey's stainless steel imports grow in May m-o-m, y-o-y - According to statistics, Turkey's stainless steel imports totaled 69,600 tons in May this year, increasing by 1.25% compared to the previous month and also growing by 8.9% from the same month a year ago. - more


Chrome prices to weaken but China stimulus could offset deterioration, says Tharisa - Chrome prices were expected to "retreat" in the current quarter following a slowdown in world economic activity, although there was the possibility of declines being offset by China stimulus, said Tharisa, the chrome and platinum group metals (PGMs) producer. - more

Other News
Economic Stats and Prices
| | |
| --- | --- |
| | |
| Why Stainless Steel | Слава Україні! - more |
Tuesday, July 12
Daily Nickel/Stainless Steel Briefing
Nickel closed Monday's trading session at

$9.91/lb

($21,850/tonne). Indicators at 6:00 am CST today show nickel trading around $.12/lb lower. Stockpiles of nickel stored in LME licensed warehouses fell slightly on Monday and ended that session just under the 64,100 tonne level. The tanking Euro continues to pressure base metals, and nickel bulls are struggling to keep their heads above water. No major headlines to jolt the markets today, but a fair amount of news for your reading pleasure. Stay safe out there and have a great day!!

Average price of LME traded cash nickel so far this month - $9.93/lb

Reports

Shanghai Metals Market

London Metals Market
Monday's market review - Global demand fears, soaring dollar slam copper prices - Copper prices fell on Monday as worries about demand in top consumer China due to new coronavirus restrictions, and elsewhere because of interest rate rises, were reinforced by the soaring dollar. - more
LME hopes to soon announce nickel Asian trading return, CEO says - more

Stainless Report In the Middle - High prices, material shortages have dominated the last year in the specialty metals world, though how long those conditions last remains to be seen. - more

Column: Hedge funds up the bear ante on Doctor Copper and friends - Hedge funds are piling the pressure on Doctor Copper and his metallic friends. - more


Domestic Stainless Steel Output in June Fell as Expected - According to SMM survey, the domestic stainless steel output in June totalled about 2.6753 million mt, down 177,900 mt or 6.08% MoM and down 3.55% YoY. - more


Russia-Ukraine conflict creates uncertainty for high-grade nickel supply - The Russia-Ukraine conflict has created uncertainty over global supply of mined nickel – particularly high-grade nickel, which is used as battery-grade nickel in the electric vehicle (EV) industry – market research firm Fitch Solutions Country Risk and Industry Research (Fitch Solutions) said in its 'Global Nickel Outlook' report on July 8. - more


Raglan Mine makes new offer to striking employees - United Steelworkers withdrew from negotiations last week; strike started around the end of May - more

Quebec keeps its nickel control plan secret - The Ministry of the Environment claims to gradually implement its plan, but does not provide details. - more
Courtesy AISI - In the week ending on July 9, 2022, domestic raw steel production was 1,748,000 net tons while the capability utilization rate was 79.3 percent. Production was 1,862,000 net tons in the week ending July 9, 2021 while the capability utilization then was 84.4 percent. - more

Other News
Economic Stats and Prices
| | |
| --- | --- |
| | |
| Why Stainless Steel | Слава Україні! - more |
Monday, July 11

Daily Nickel/Stainless Steel Briefing
Nickel closed Friday's trading session at

$9.76/lb

($21,510/tonne). Indicators at 6:00 am CST today show nickel trading around $.08/lb lower. Stockpiles of nickel stored in LME licensed warehouses fell sharply on Friday and started this week just under the 64,200 tonne level. This morning's LME stockpile release was a shot across the bow for those still forecasting nickel surplus this year. The drop of 1200+ tonnes on Friday was a reminder that they have yet to stop falling. The Euro is falling this morning, and in our opinion, dragging base metals with it. Covid is becoming a factor again, and not just inside China with its zero case policy. New cases are on the rise around the world. So stay safe out there and have a great week!

Average price of LME traded cash nickel so far this month - $9.96/lb

Reports

Shanghai Metals Market

London Metals Market
Friday's market review - Copper steady as softer dollar offsets China demand fears - Copper prices steadied on Friday as the positive impact of a weaker dollar on industrial metals consumption offset worries about demand in top consumer China. - more
SMM Data: China Stainless Steel Production to Decrease Further in July after Sharp Decline in June - According to SMM survey, the domestic stainless steel output totalled 2.68 million mt in June, a drop of 6.08% month-on-month and 3.55% year-on-year. - more

The World Nickel Market in 2022 - Return to Surplus Expected - The stainless steel sector accounted for over 70% of nickel usage in 2021; however, demand for electric vehicle batteries surpassed 11% market share in 2021. - more


Glencore orders full fleet of Epiroc battery-electric mining equipment for Onaping Depth nickel and copper mine in Canada - Glencore's Sudbury Integrated Nickel Operations (INO) has ordered a full fleet of Epiroc battery-electric equipment for use at the Onaping Depth Project in Ontario, Canada. - more

Top 50 mining stocks lose $1.2 trillion in market value from peak - After a brutal second quarter, investors in the world's 50 biggest mining companies are in full retreat as metal prices slump and uncertainty grips the sector. - more
New Study Reveals Serious Risk of Noise Pollution from Deep Sea Mining - The noise from a single operating mine will travel hundreds of miles, with devastating effects on deep sea life. - more

Other News
Reuters The Day Ahead - pdf here
California Truckers in Gig-Work Legal Limbo, Risking Supply Chains - more

Economic Stats and Prices
Friday, July 8

Daily Nickel/Stainless Steel Briefing
Nickel closed Thursday's trading session at

$9.80/lb

($21,595/tonne). Indicators at 7:00 am CST today show nickel trading around $.14/lb lower. Stockpiles of nickel stored in LME licensed warehouses fell on Thursday and started today's session just over the 65,400 tonne level. Nickel closed lower on Wednesday and Thursday this week, and today hasn't started any differently. A combination of a weaker Euro, Covid outbreaks in China, and recessionary concerns have traders in a foul mood. The covid outbreaks would, and do, go unnoticed in the US and other countries, but China, which is still fighting to keep their zero policy in place, a few dozen sick people is take seriously, which in turn affects their economy. Which many times, affects ours and the world economies. The U.S. continues to loose between 250 and 350 people per day to covid, although evidence exists that those numbers may be low. If not, then explaining the death rate for working age Americans suddenly spiking for no apparent reason, is a mystery. So stay safe out there and have a great weekend!!

Average price of LME traded cash nickel so far this month - $10.03/lb

Reports

Shanghai Metals Market

London Metals Market
Thursday's market review - Copper bounces on China stimulus hopes - News of possible stimulus in China pushed copper prices up sharply on Thursday from the previous day's 20-month low, but many analysts expect further declines as rising interest rates stifle global economic growth. - more
Nickel Big Shot Called the Shots - If you sell nickel futures at a price of $25,000 per ton, and then the price of nickel futures goes up to $100,000 per ton, then in some simple arithmetic sense you have lost $75,000 per ton. - more

US maintains AD order on China's stainless steel sheet and strip - According to the final result of an expedited sunset review of the anti-dumping (AD) duty order, the US Department of Commerce (USDOC) found that the cancellation of the existing AD order on stainless steel sheets and strips from China would be likely to lead to continuation or recurrence of dumping at a magnitude of dumping margin of up to 76.64%. - more
US maintains AD & CVD measures on stainless steel plate from 3 countries - more

Federal Appeals Court turns back steel tariff challenge - The U.S. Court of Appeals for the District of Columbia Circuit dealt steel importers their latest defeat as they continue to try and get out from under the 25% tariff on imported steel first instituted by the Trump Administration. - more

Europe's largest steel plant scoffs at EU environmental regulations - POLITICO - The European Commission says EU citizens benefit from some of the world's highest environmental standards. - more


Global production of molybdenum fell, while usage rose in Q1 2022 - Figures released today by the International Molybdenum Association (IMOA) show that the global production of molybdenum fell by 4% to 138.4 million pounds (mlbs) in Q1 2022 when compared to the previous quarter - a fall of 7% when compared to the same quarter of the previous year. - more


Liquefaction Continues To Be The Deadliest Risk For Bulk Ships - Dry bulk shipowners association INTERCARGO is calling on industry partners to do more to ensure the safety of crews as improperly loaded cargo continues to cause loss of life in the sector. - more

Mining the deep sea for battery materials will be dangerously noisy, study finds - The race is on to figure out how to protect the ocean abyss as deep-sea mining operations look to extract minerals like nickel, cobalt, and copper from the sea floor. - more

Other News
Economic Stats and Prices
| | |
| --- | --- |
| | |
| Why Stainless Steel | Слава Україні! - more |
Thursday, July 7

Daily Nickel/Stainless Steel Briefing
Nickel closed Wednesday's trading session at

$9.90/lb

($21,815/tonne). Indicators at 6:00 am CST today show nickel trading around $.25/lb higher. Stockpiles of nickel stored in LME licensed warehouses fell on Wednesday and ended that session just over the 65,700 tonne level. And nickel continues its up and down, see-saw movement. On days the price falls, the media blames recession talk for spooking the markets, while on days like today, they concentrate on traders concern over supply. There was a time, not so long ago, when we posted a morning movement of $.25.lb and defined trading as volatile. Now, a $.25lb movement is a rather mild change. Stay safe out there and enjoy your Thursday!

Average price of LME traded cash nickel so far this month - $10.03/lb

Reports

Shanghai Metals Market

London Metals Market
Wednesday's market review - Copper hits almost 20-month low as recession fears grip market - Copper prices slid to their lowest in almost 20 months on Wednesday as persistent worries that a recession would dampen metals demand hit a market with thin summer volumes. - more
LME nickel chaos chills metals trading activity: Andy Home - The London Metal Exchange's (LME) suspension of its nickel contract in March has led to a sharp drop in metals trading activity. - more
Tycoon Whose Bet Broke the Nickel Market Walks Away a Billionaire - more

WTO delays US metal tariff dispute ruling to the fourth quarter - The World Trade Organization has delayed to fourth-quarter 2022 the expected timeline for its rulings in cases involving complaints six countries filed disputing the US' steel and aluminum tariffs. - more

Sanctioned Potanin's Nornickel role a hurdle to Rusal merger -sources - Sanctioned Russian businessman Vladimir Potanin is likely to represent the biggest barrier to a potential $60 billion merger between Russia's largest metals producers Nornickel and Rusal, two sources with direct knowledge of the matter said. - more
In Response: When it comes to mining safely, this is Minnesota, not Indonesia - From the column: "Our approach is to mine safely, putting both respect for worker safety and the environment first." - more

Other News
Economic Stats and Prices
| | |
| --- | --- |
| | |
| Why Stainless Steel | Слава Україні! - more |
Wednesday, July 6

Daily Nickel/Stainless Steel Briefing
Nickel closed Tuesday's trading session at

$10.27/lb

($22,650/tonne). Indicators at 6:00 am CST today show nickel trading around $.15/lb lower. Stockpiles of nickel stored in LME licensed warehouses fell on Tuesday and started today's session, just under the 66,100 tonne level. Nickel continues its see saw trading action, with recession fears overshadowing supply concerns. Another busy day on the news front, so we leave you with it. Stay safe out there and have a great hump day!

Average price of LME traded cash nickel so far this month - $10.02/lb

Reports

Shanghai Metals Market

London Metals Market
Tuesday's market review - Copper lurches to 19-month low as dollar jumps, speculators flee - Copper prices crumbled to their lowest in 19 months on Tuesday after the dollar surged, drawing investment flows away from commodities as fears of recession continued to swirl. - more

Global copper and nickel smelting slips in June, satellite data shows - Global copper smelting activity declined in June, hit by a stoppage in top producer Chile, data from satellite surveillance of metal processing plants showed on Monday. - more


Stainless Steel Sheet and Strip From the People's Republic of China: Final Results of Expedited Sunset Review of the Antidumping Duty Order - As a result of this expedited sunset review, the U.S. Department of Commerce (Commerce) finds that revocation of the antidumping duty (AD) order on stainless steel sheet and strip (SSSS) from the People's Republic of China (China) would be likely to lead to continuation or recurrence of dumping at the levels indicated in the "Final Results of Review" section of this notice. - more


German steel market less bearish on pricing, expects production cuts: survey - more


Industry expects China to announce 2%-3% reduction in 2022 crude steel output - China is likely to announce a 20 million-30 million mt, or 2-3% year on year, decline in its steel output cut target for 2022 in July, according to industry sources. - more


India imports large amount of stainless steel from China in recent years - In recent years, India's stainless steel imports have increased significantly, especially from Indonesia and China. - more


Courtesy AISI - In the week ending on July 2, 2022, domestic raw steel production was 1,767,000 net tons while the capability utilization rate was 80.9 percent. Production was 1,849,000 net tons in the week ending July 2, 2021 while the capability utilization then was 83.4 percent. - more

Russia's Potanin weighs $60 billion metals merger as defence against sanctions - Russian businessman Vladimir Potanin has said he is ready to discuss a possible merger between his mining group Nornickel and aluminium producer Rusal, a move that could strengthen their defences against any possible Western sanctions against them. - more
War helps Russian nickel king expand his realm - more

Other News
Economic Stats and Prices
| | |
| --- | --- |
| | |
| Why Stainless Steel | Слава Україні! - more |
Tuesday, July 5

Daily Nickel/Stainless Steel Briefing
Nickel closed Friday's trading session at

$9.93/lb

($21,890/tonne) and Monday's session at

$10.21/lb

($22,500/tonne)Indicators at 6:00 am CST today show nickel trading around $.12/lb lower. Stockpiles of nickel stored in LME rose on Friday and fell more on Monday to start today just over the 66,300 tonne level. Nickel has entered a see saw period, closing lower, then higher, then lower, etc. Overall, the trend remains negative. Lot of news today, with talk of recessions, war, controversies, supply and demand, mergers, and possible strikes to start a shortened week. We also start the second half of 2022 with the same site sponsor that we ended the first half with. P.A. Inc of Houston, Texas, stepped in last December after a decision had been made to discontinue daily updates due to a lack of monthly sponsors. It is because of their willingness to step up and sponsor the site for the entire year, that we still post daily updates in 2022. If you use and/or need stainless steel or high nickel pipe, butt weld fittings, flanges or pressure fittings, please give the folks at P.A. Inc. a call. We thank them for their support! And we hope you have a safe and great week!

Average price of LME traded cash nickel so far this month - $10.06/lb

Reports

Shanghai Metals Market

London Metals Market
Monday's market review - Copper hits 17-month lows on China restrictions, manufacturing data - Copper prices fell to 17-month lows on Monday as new COVID restrictions in top consumer China,slowing global manufacturing activity and a jump in inventories sparked demand worries and a sell-off. - more

Friday's review - Copper stumbles to 17-month low as inflation data fans slowdown fears - Copper prices slumped on Friday to their weakest in 17 months as inflation and factory data reinforced fears that central bank tightening would push economies into a recession and hit metals demand. - more
Bank of England takes deep dive into 'opaque' commodities - more
Metals melt down as recession fears overwhelm supply woes - more

Stainless Steel Futures Record Seven-Month Low, Will Expanding Production Cuts Support the Prices? - The most-traded stainless steel futures contract consolidated after a steep fall on June 24 with downward potentials. - more

SMM Survey: 12 Blast Furnaces Newly Started Maintenance Last Week - The following table is the latest situation of overhaul and production reduction of domestic BF-based steel mills surveyed and compiled by SMM. - more
Outlook for Nickel Prices amid Weak Expectation of Interest Rate Hikes and Poor Demand - more

Nickel sulfate vs metal: is the market moving towards new pricing mechanisms? - Three months after a historic short squeeze on the London Metal Exchange that pushed nickel prices above $100,000/mt, the LME is back in the spotlight. - more

Why sentiment in industrial metals has been crumbling - more
Supreme Court Rules in Favor of Nickel Firm Over Row with State Minister - The official website for the Indonesian Supreme Court (MA) announced on Monday that the court had turned down the cassation filed by Investments Minister Bahlil Lahadalia and ruled in favor of nickel company PT Toshida Indonesia over a permit dispute on the use of a forest area. - more


ENR 11: No notice given to firm to resume mining - The Department of Environment and Natural Resources-Davao Region (DENR-Davao) clarified it has not given a "notice to proceed operation" to the mining company responsible for the siltation and discoloration incident of Mapagba River and the coastal areas in Banaybanay, Davao Oriental early this year. - more


Glencore going all-electric at new Canada mine, says Epiroc - Diversified mining company Glencore has ordered a full fleet of battery-electric equipment for use at its Onaping Depth Project at the Sudbury integrated nickel operations, in Canada, says mining equipment manufacturer Epiroc. - more

The United States refused to impose duties on Russian metals and increase tariffs on iron imports - Earlier, within the framework of depriving Russia of the "greatest assistance" status, the United States announced an increase in duty rates on more than 570 groups of Russian products in the amount of about $ 2.3 billion, but in reality they were able to introduce new tariffs only on certain types of aluminum products, finished steel rental and chemical products. - more
West Coast dockworkers fail to reach labor agreement with port employers - Union dockworkers at West Coast shipping ports failed to reach a labor agreement with cargo carriers and terminal operators on Friday, but both sides committed that "normal operations will continue at the ports," according to a joint statement. - more

Other News
Economic Stats and Prices
| | |
| --- | --- |
| | |
| Why Stainless Steel | Слава Україні! - more |
Friday, July 1

The United States celebrates its Independence Day on Monday, July 4th. Our next update will be Tuesday July 5th.


Happy Canada Day to our northern neighbors!!
Daily Nickel/Stainless Steel Briefing
Nickel closed Thursday's trading session at

$10.32/lb

($22,745/tonne). Indicators at 7:00 am CST today show nickel trading around $.28/lb lower. Stockpiles of nickel stored in LME licensed warehouses fell on Thursday and started the new month just under the 66,500 tonne level. For the first half of 2022, LME stockpile numbers are down 34,758 tonnes, and 4,974 of those tonnes were lost in June. That forecasted surplus that never came last year, can start showing up at anytime. Nickel closed the first trading day of 2022 at $21,095/tonne and looking at yesterday's close, one just arriving from Mars, might suspect the nickel market has been rather boring so far this year. And yet, looking at film clips of the beginning and ending of a race might tell you who started and ended the best, it does not tell the story of the race itself. And the first half of 2022 was a unique ride, to say the least. Lower material costs and lower demand are hurting steel mills around the world, especially in China and the EU. Everyone is worried about a potential recession and like personal relationships, we tend to make things happen by worrying they might. And there is the war. The Russians have proven once again that they are not part of the thousand points of light, but a nation sucking black hole. They have never learned how to earn the world's respect, so instead, they once again turn to the fear of nuclear devastation as their pass to terrorize their neighbors. If they want to live like barbarians, we suggest the world treat them as such. It's a new month, and the end of another week. Stay safe out there and have a great weekend. Happy Canada Day to our friends to the north, and Happy Fourth to our U.S. readers. See you next Tuesday.

Average price of LME traded cash nickel so far this month - $11.72/lb (average for June)

Reports

Shanghai Metals Market

London Metals Market
Thursday's market review - Copper sees sharpest quarterly plunge since 2011 - Copper prices fell on Thursday to log their biggest quarterly slump since 2011 as COVID lockdowns in China and slowing economic growth curtailed demand. - more

Steel Mills Jointly Held the Prices Firm and the Spot Prices Rose Stably - On June 30, the decline of stainless steel spot prices slowed down. The base price of 304 from private companies in Wuxi and Fozhan stood at 17,200 yuan/mt. - more


Inventory surge triggers rapid EU stainless price fall - Stainless steel buying activity, in Europe, has remained considerably weaker than anyone anticipated following the decline in April. - more


India's steel majors cut production as demand falls - Amidst anaemic demand, both locally and in the export market, the domestic steel majors have not just cut down their production, but advanced their maintenance shutdown work at some facilities to rein in the rising inventory and also to keep the plant future-ready, industry sources said. - more

China's steel sector PMI decreases in June - In June this year, the purchasing managers index (PMI) for the Chinese steel sector was at 36.2 percent, down 4.6 percentage points compared to May, as announced by the China Steel Logistics Committee, which is part of the China Federation of Logistics and Purchasing (CFLP). - more

Other News
Economic Stats and Prices
| | |
| --- | --- |
| | |
| Why Stainless Steel | Слава Україні! - more |
---
---
---
Translate this page to French | German | Spanish | Italian | Portuguese | Chinese | Japanese | Korean | Russian
---
(all ton listings are metric tons = 2204.622 pounds ) Updated Monday thru Thursday before 7 am CST, Friday version before 8 am CST - Disclaimer Original content and opinions copyright www.estainlesssteel.com. All prices shown on this page are indications only. Please note - for real time and official LME prices, LME requires a user subscribe to an authorized LME vendor.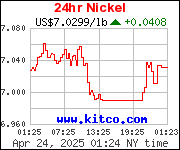 Stainless Steel Surcharge
Worldwide PMI
---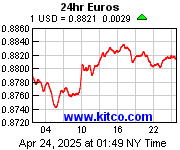 ---
---